Tag: Animal Parties
Snickerplum did our first Expo a couple of weeks ago! We went down to Utah Valley and did the Women's Expo at UVU. It was so much fun designing everything for our first ever booth!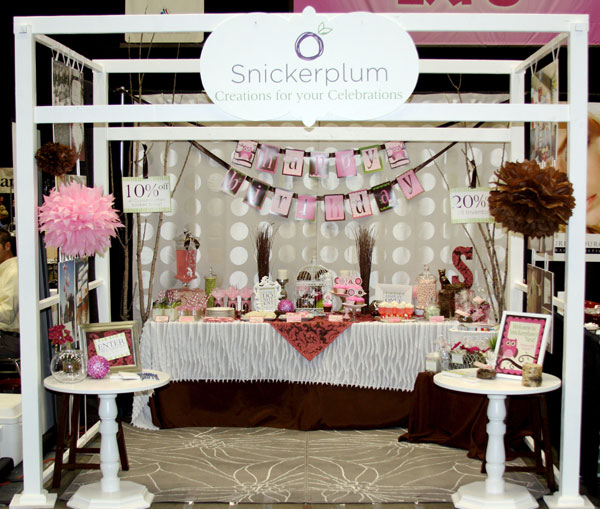 I had this idea in my head to do a cute scalloped frame with our logo inside, and it turned out EXACTLY how I wanted it too! I was so happy. My husband made me these supports so I could hang my cute sign and some other product pics on the sides. He was amazing and worked so hard. It just turned out perfectly and I couldn't have been more thrilled.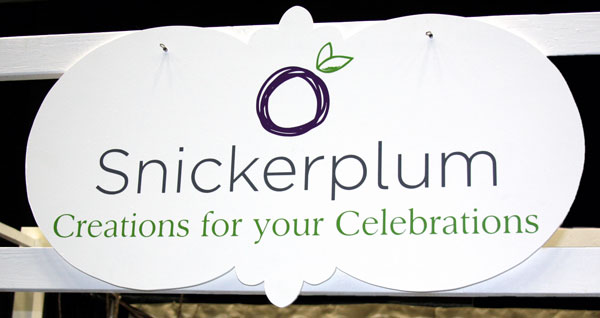 I took my cute end tables from my family room and used them for the entry way welcome tables. I used one for the welcome area with all my business info, and the other for our giveaway we did. We did a giveaway for a FREE BANNER of your choosing and the winner will be announced at that end of the post...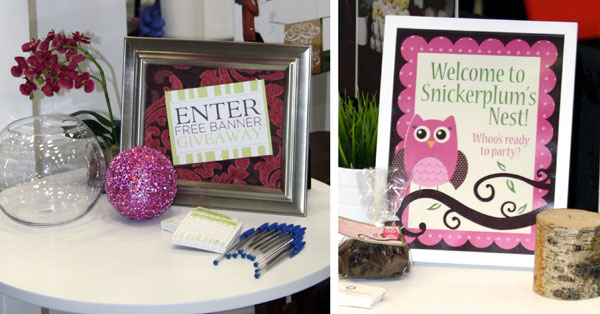 On each of our sides of the booth we hung pictures of some of our past projects and parties to showcase the range Snickerplum is able to fulfill. Anything from Birthday Parties and Baby Showers to Gender Reveals and even Corporate Events. If there is an event you would like Snickerplum to design product and style for you, we are available and willing to help you out! Just contact us for further info.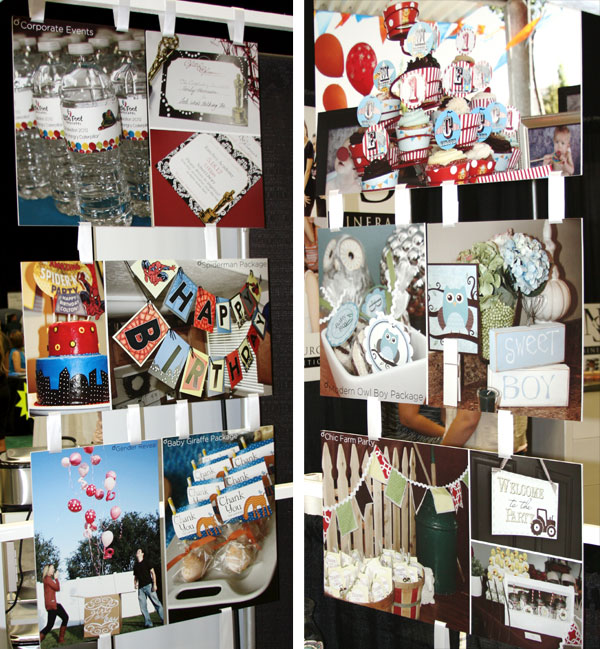 At the back of the booth, we had a 'display party' setup to showcase a sample party we could throw for you!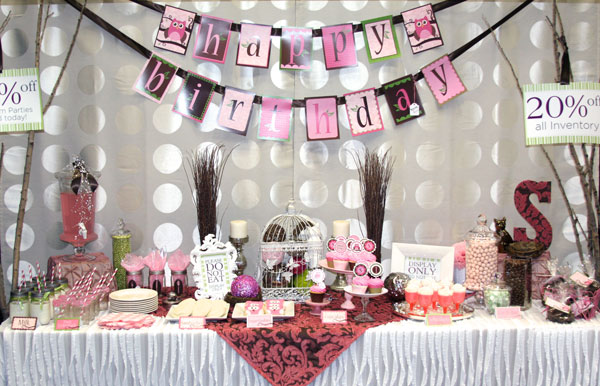 When Snickerplum styles for parties, we think it's important to add personalized touches. This is a sample 'S' for the birthday girl, who's name would start with an 'S'. For our sample party we did an S because it was 'Snickerplum's party' afterall. :)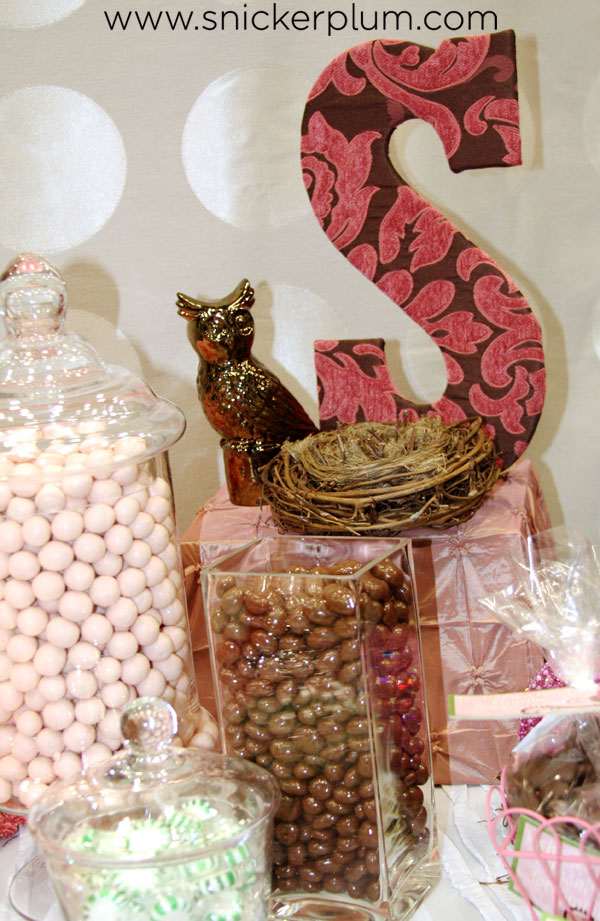 For some of our sample food we did the classic and always enjoyable cupcakes, complete with our Modern Owl Personalized cupcake toppers and wrappers. We also did some Jello Shots (no alcohol of course, just a fun name) with whipped cream added to make it more creamy and smooth. These are a must for a kids party!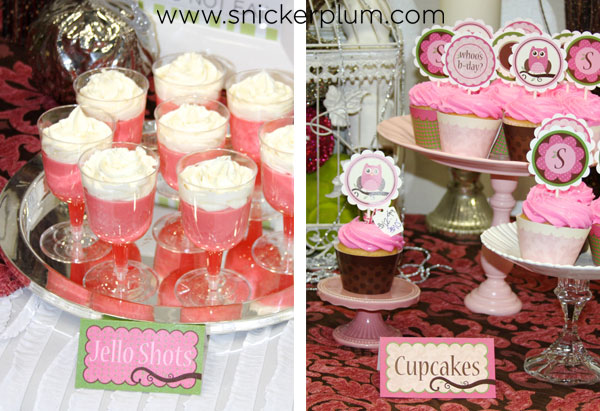 My wonderful stylist Tiffany did these amazing owl sugar cookies for us. Aren't they adorable!? I also love the personalized touches with the food cards.
For this party we to decided to use girly pink accents with woodsy owls. It was fun to put the two different styles together and see how it worked and how well they complimented each other. To add a little of the woodsy feel we used mason jars, and added the pewter mason jar lids for a girly touch. And of course, to add a touch of color and fun, we used some hot pink stripe paper straws!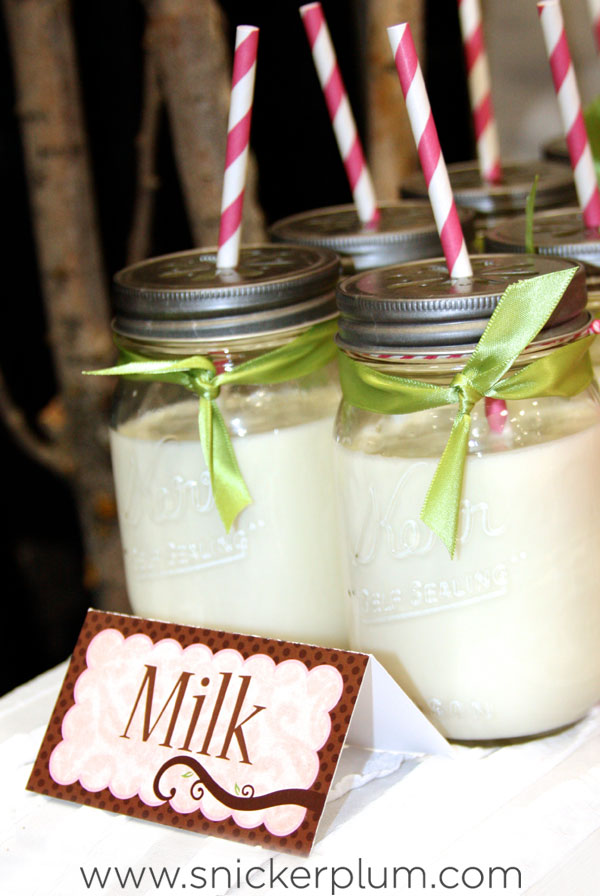 We added a sugared rim to the glasses for the pink lemonade and finished them up with some paper straws again. They can be found here at Sip Sticks. To learn how to do the sugared rim's check out our tutorial here.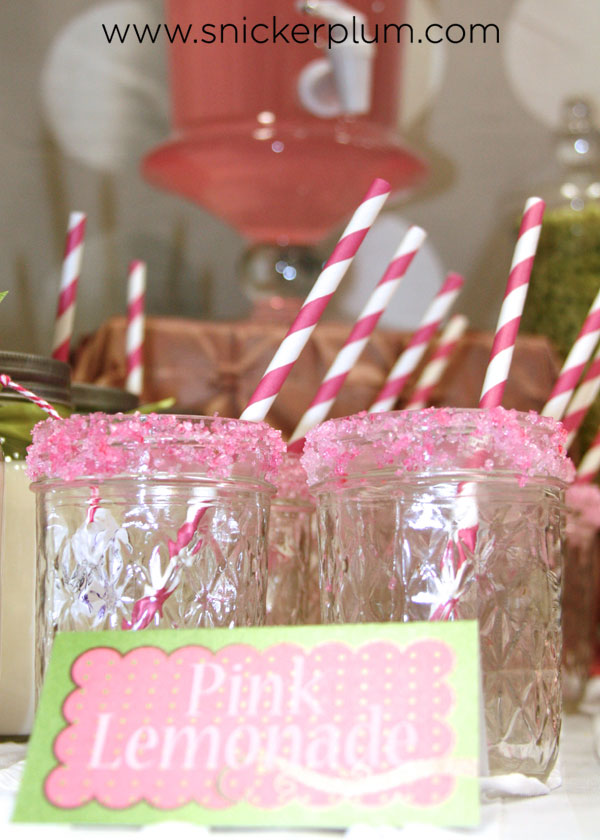 We also displayed a cute sample of a Thank You for the guests. The great thing about a Thank You is that it can be as simple or extravagant as you want and both work. For ours, we just put some chocolate animal crackers in a celophane bag and tied a cute ribbon around the tag and around the bag.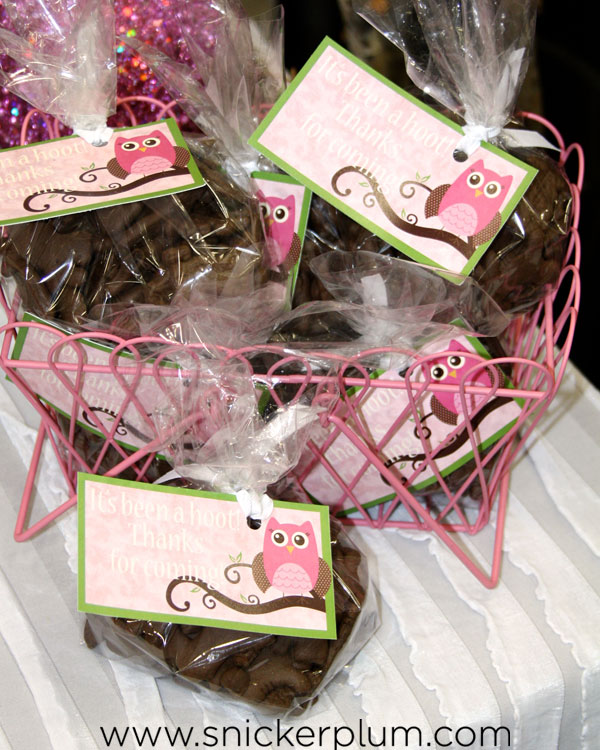 We had a few of our pre-packaged Happy Birthday Cupcake Toppers to sell at a discounted price. I have a few sets left over if anyone wants some for $5.00/dozen. Get them while they last...
- Amazing Spiderman Party
- Modern Owl- Boy
- Modern Owl- Girl
- Chic Farm
- Big Top Circus
You can order them HERE in our Etsy shop. I will update the list of what is available as we sell out.
For our silverware, we found some cute vinyl silverware decals to put on some mason jars HERE. We didn't feel like the brown ones stood out enough, so we put the tissue paper in there to add a contrasting color behind it, making them much more noticable. You can also find them under our favorite products link on the right.
Here is our Girl Modern Owl Happy Birthday Banner. It can be found HERE in our Etsy Shop.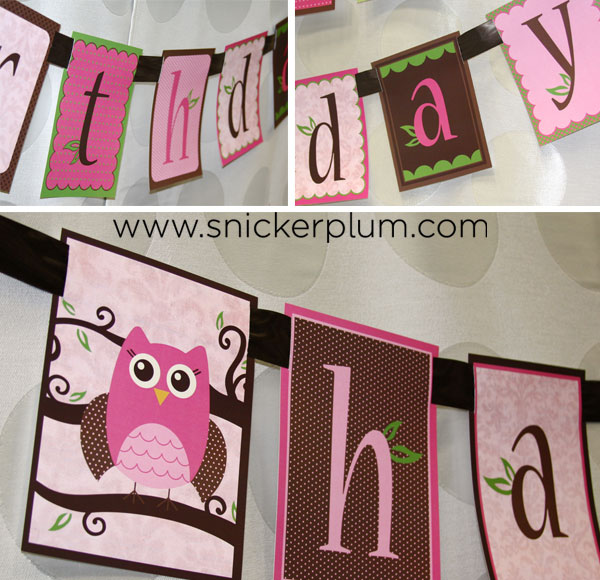 After 2 days of meeting many, many wonderful women; and many people entering our giveaway, we have a winner...
Shelby Ross is our winner!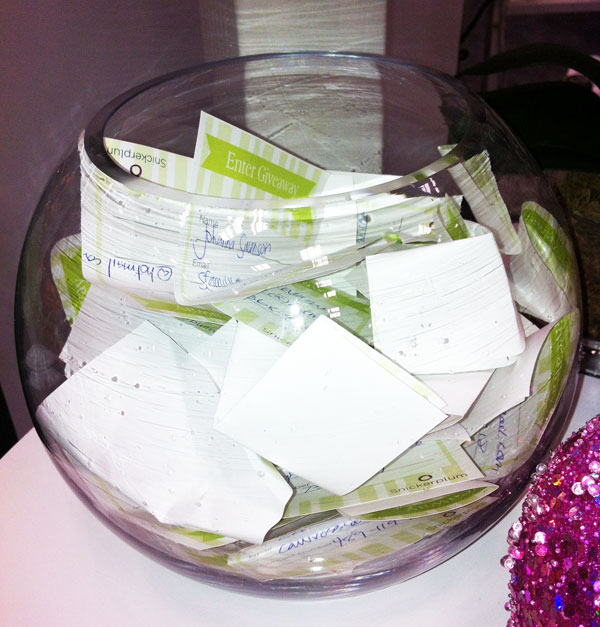 And if you were able to make it and visit us at our booth, here are all my wonderful workers who helped out! Thank you so much Carly, Angie, and Tiffany!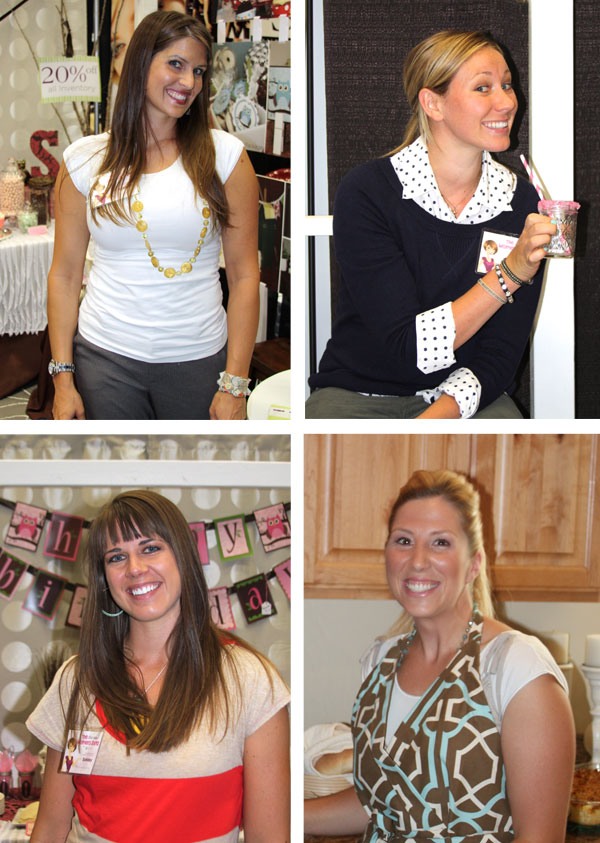 Thanks for visiting!

I was able to do another baby boy shower recently, so we decided to use my newest package, the Baby Giraffe Baby Shower Package.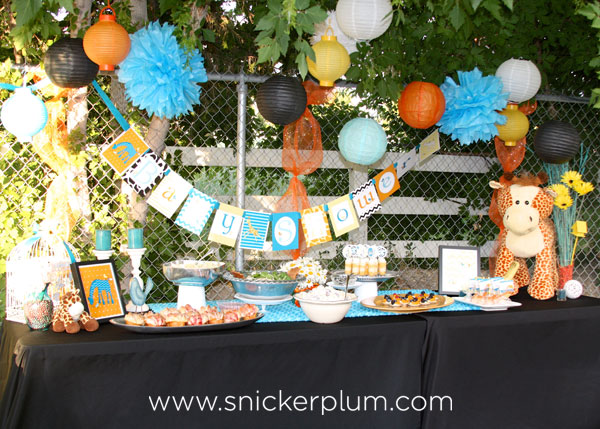 It was nice to be able to change a few things that I wasn't 100% sure on, and add some more products to the baby shower package. I still of...
Read full post
I'm finally getting around to posting pics from Snickerplum's Newest Party Package- the Baby Giraffe Collection!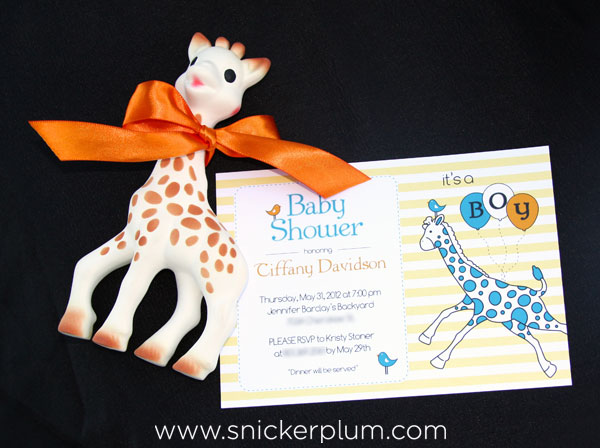 Here is the Baby Giraffe Baby Boy Shower Invite.
(Next to one of my favorite baby items- the Vintage Sophie Giraffe)
This package is all shown in a baby...
Read full post
This latest party was so fun! If you know Carnivals, it is colorful, exciting, and full of life. And for this little guy- this party was all that and more. You'll see below why I'm behind in posting... it's been crazy!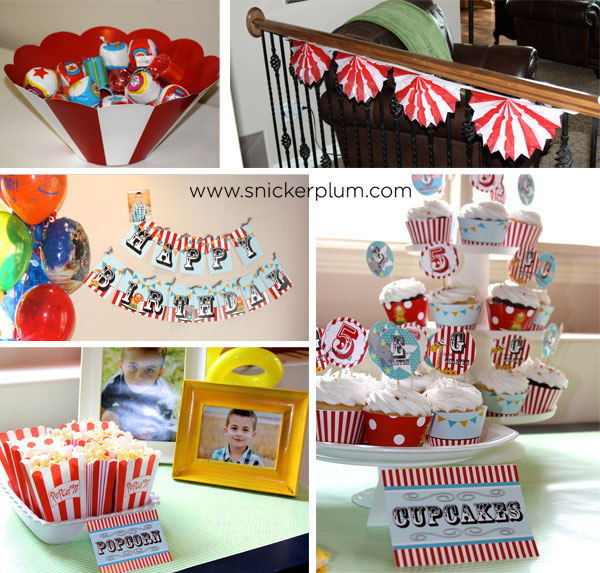 I'm sorry I didn't get a chance to blog last week! I...
Read full post


2023 (0)

December (0)

[-]

November (0)

[-]

October (0)

[-]

September (0)

[-]

August (0)

[-]

July (0)

[-]

June (0)

[-]

May (0)

[-]

April (0)

[-]

March (0)

[-]

February (0)

[-]

January (0)

[-]