By @ Mar 24, 2014
I can't tell you how excited I am for this new party! Seriously, it's one of my favorites!! With 4 boys, I am very motivated to create some adorable parties for the little men.
I wanted to stick with more of a vintage Aviator theme by paying homage to the old days. Obviously I kept it fresh and played around with some fun colors, while keeping this awesome party up to date.
I absolutely loved how this all cme together! All the little details are what really make it. It was so much fun to set up this baby shower for this adorable couple. This is their first boy, so of course we had to go all out. We had several little places around the main area of the party for different things.
The first thing you see is the door sign. Isn't this a cute way to welcome your guests? I can tell you, it's so much easier having a sign on the door that allows your guests to just come into the party instead of having to answer the door every 2 seconds. We framed the print, then used sticky tabs to attach the little plane toy and metal star. You can find a metal star at any home decor store, it's pretty eay to spray paint it the color of your choice. In our package the door sign comes customized with any saying you wish!
When you walk in the door, there was an entry table with a cute display and the "thank-you" gift for the guests as they walked out.
My client had cute little airplane cookies made from one of my favorite vendors, Tiffany, and we tied the "thank-you" tags around the celephane bags with paper shreds- both purchased from Hobby Lobby.
We then had another table set up for the games. These adorable prints come in the main party package. I thought it would be so fun to provide easy, printable games in this party package. Who doesn't like that it's less work?! And let me tell you, they were such a huge hit! The complete package comes with 3 5x7 customized pages. You can put anything from a menu, a welcome sign, to games or a thank you sign. Whatever works best for your party.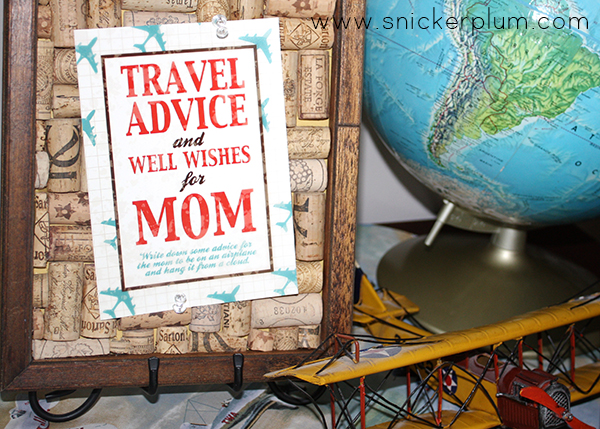 I remember when I had my baby shower, one thing that I aboslutely LOVED was the advice and well wishes I got from all my guests. It was priceless to read through everything once they had all left.
On the same table as the games, we also had a little set up for a candy bar for the guests to take a bag of candy to snack on during the shower or with them when they left. These are always a huge hit with children!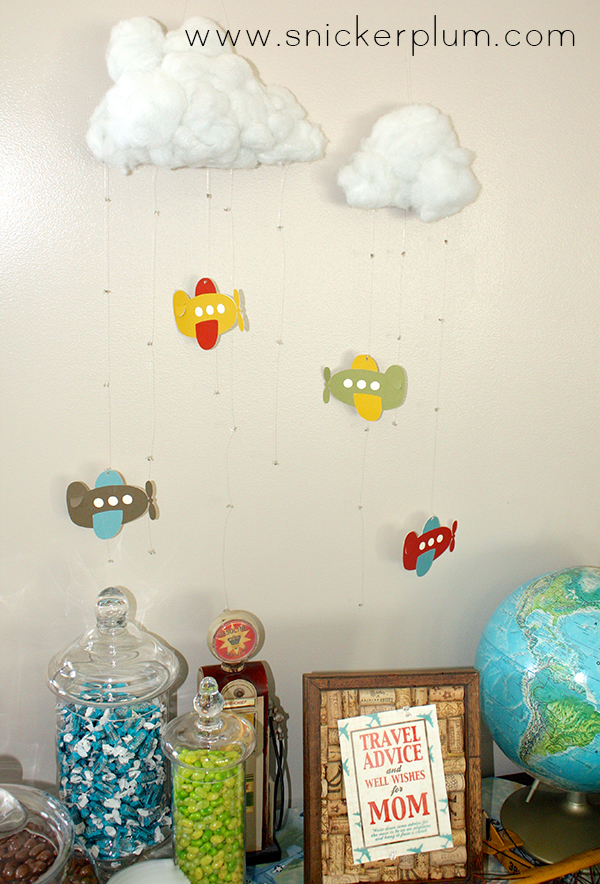 You can find colored candy to match any party from Walmart, Partyland, Zurchers, or a local candy or party store.
One thing that was really fun to make were the clouds. I grabbed a bag of stuffing and using a hot glue gun, glued pieces together. Play around with it, you can make all sorts of shapes and sizes. We again used sticky tabs to tape them to the walls.
Another thing we added were the little paper airplanes. I own a Cricut machine and cut out a few paper airplanes. If you take a close look at the strings hanging down from the clouds, there are little clips on them. The advice and well wishes from the guests would write on the back of these paper airplanes and then hang them on those strings. It was just a cute little addition for the decor and memories for the mom-to-be.
TIP: If you don't have a way to make little paper airplanes, make sure you cut up some paper for everyone to write on. It's easy to find some paper that matches your color scheme to use. You'll want them to look cute and uniform so it's easy for you to put into a scrapbook. Make sure you have pens too ;)
Did you know you can order most of our party packages in physical or PDF form? With this Aviator party, you can order the party package and have it shipped directly to you, or you can purchase the PDF version and print it all from your own home. What's even better is that you get the choice to have the party banner customized (like in this party) so it can say whatever you wish. Purchase the generic banner and it is a little cheaper, but the rest of the package is customized still from the toppers and door sign to the pages and food labels!
I know this has you all excited, but you'll have to wait a little until I show you more details! ........You're welcome :)