By Kristy @ Mar 19, 2012
Not only is our Superhero Spiderman Package amazingly beautiful and unique on it's own, but we also have a Spiderman, CUSTOMIZED birthday party, vinyl wall decal in the package as well! This is so unique and custom that you won't find something like this anywhere else!

Each vinyl decal comes customized with the birthday boy's name!
At our Superhero Spiderman Birthday Party, the kids had such a blast posing in front of the spiderman, that we could have done pictures the whole party and been just fine! (But of course we didn't... all party activities will be posted later this week.)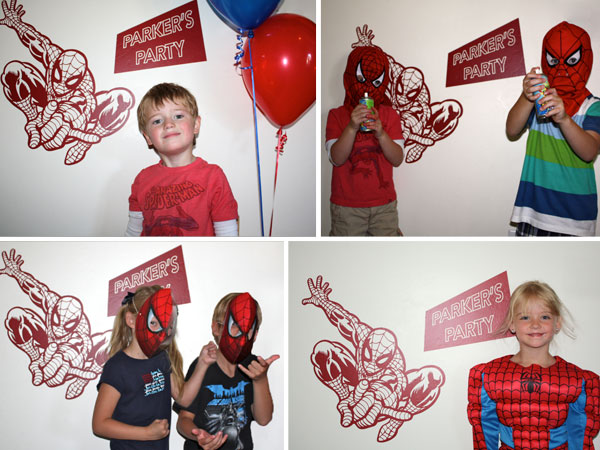 Now if you are unfamiliar with Vinyl Decals, here is a quick tutorial explaining more about them.
1- We use our sister company Vineyard Vinyl for our products, and they use a home decor, matte finish vinyl that is safe on walls and easy to remove.
2- All vinyl is made up of 3 parts; a) the backing b) the vinyl c) the front, see through masking
3- The backing is just a solid paper that the vinyl sticks to. The vinyl has a matte finish on the top and is sticky on the back. The masking helps hold the vinyl temporarily while installing it to the wall.
4- Installing vinyl is easy! You peel the masking off the backing and the vinyl will stick to the masking. Than, stick it to your wall and peel the masking off, leaving the vinyl on the wall! Once you are done with the vinyl, you peel it off with your fingernails and throw away. It's that simple!
**Vinyl is not made for every wall and every surface. Rough, uneven and unclean surfaces make it difficult for vinyl to stick, please test your surface before application.**
Each vinyl order will be sent with easy installation instructions and a sample vinyl piece to test your area before installation.