By Kristy @ May 11, 2012
I recently had a customer contact me through Etsy and asked me to customize a party banner for her. She wanted to do a farm shower with tractors & baby animals, but keep it gender neutral and stay away from the honky, tonky, hicky farm ideas that are out there.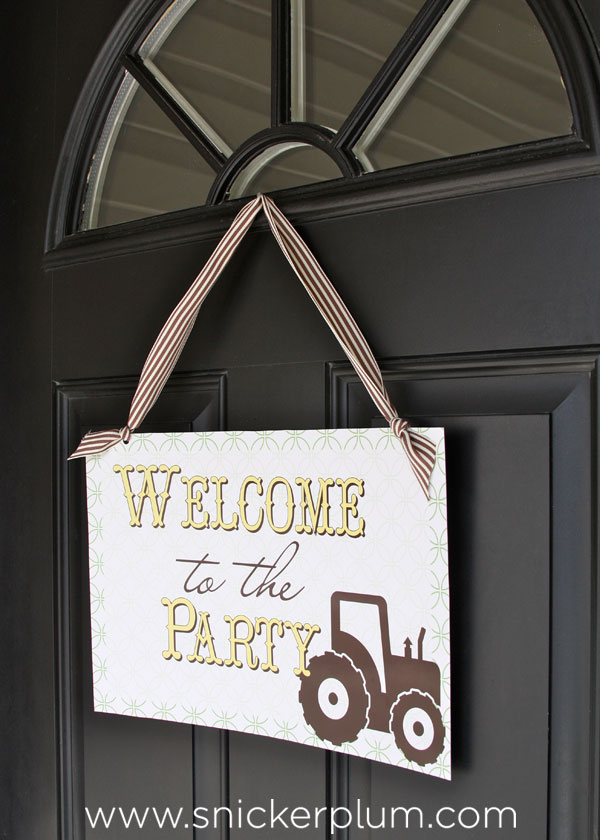 She wanted a 'Chic Farm Party!' So... my Chic Farm Party Collection was then created.
Lucky for me, I had a good friend that was having twins! A boy AND a girl! So, I needed something that would work with both genders. She also didn't need many of the essentials, because she already has a boy and a girl. But, she was in desperate need of the necessities!!! DIAPERS, WIPES, & possibly FORMULA! (I can't even begin to imagine how many of these items she will go through!) With all this in mind I decided a shower would be greatly appreciated! Thankfully I had the perfect banner to use for the party, I just had to design a few other things to go with it...
Now every chic, and well thought out party should have chic and well thought out invitations. My husband thinks theres too many dots going on, but I love it! It's probably one of my favorite at this point.
Then you need a warm welcome to the party. Ballons are nice, but I like to add an addition with a door sign as well. I am also in LOVE with this ribbon design from Stampin' Up. I have it in 5 different colors and they are discontinuing it this year... I'm so sad!
Since I could customize the banner to say anything I wanted, I decided to do something a little different from the usual 'baby shower' title and go with something more personalized. (You will notice the same ribbon, but in green:)
Here is the proud and happy mom to be, with both those babies in her belly! Doesn't she look amazing?! I don't look that good with one!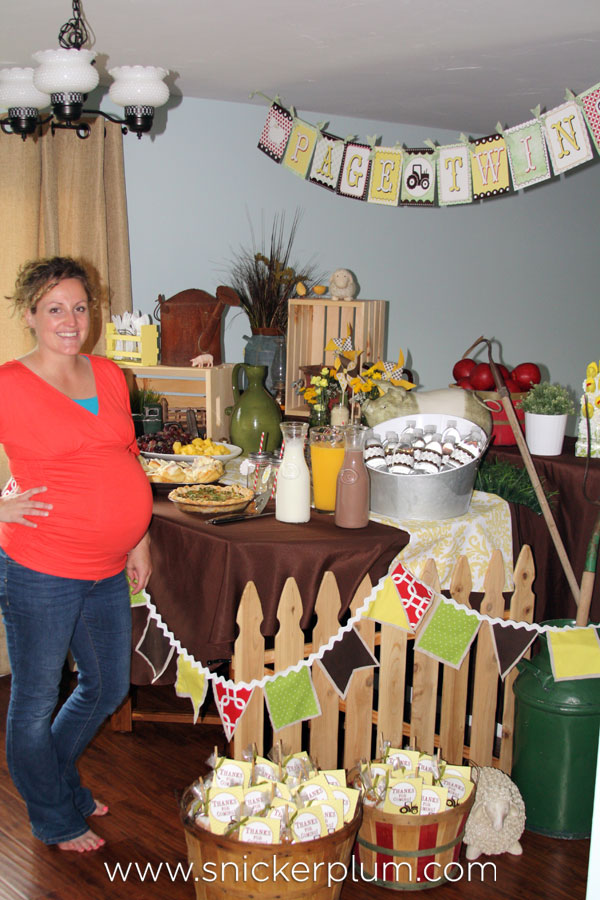 The decor for this party was really fun! I was able to use a lot of different styles and still have them go well together. I used a lot of vintage pieces off of my great-grandfather's old farm, some new shabby chic pieces and some rustic elements as well. My friend Tenielle made me the beautiful fabric pennant banner and made it a million times cuter than I EVER could have. She has a beautiful eye and is so talented. Thanks so much Tenielle!
I was able to re-use my pinwheels I've used many times before in my centerpiece. I used the same idea I had done before, but I feel this time was a little more successful. You can learn how to do these simple DIY paper pinwheels here in a previous post.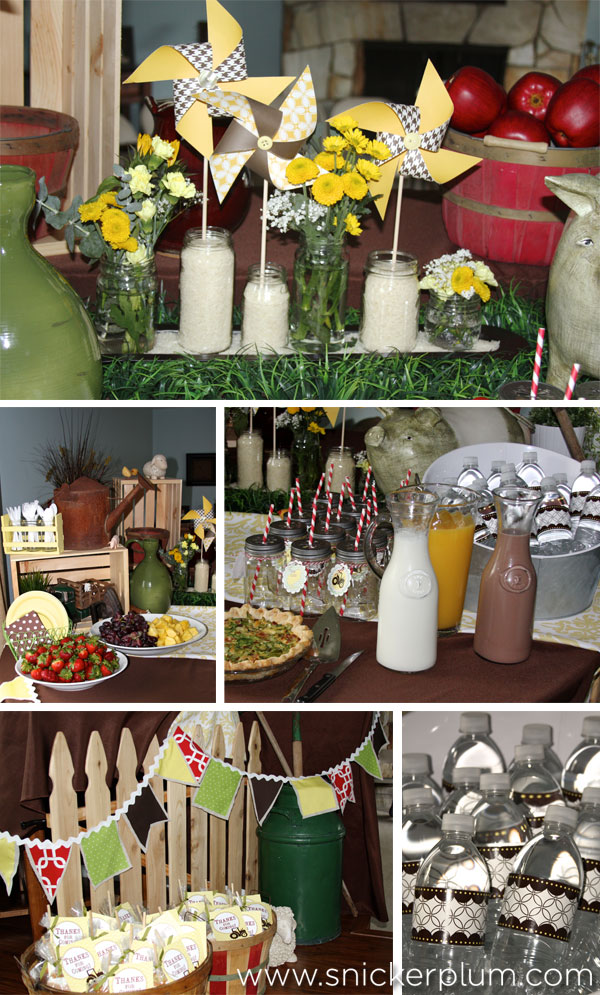 The whole table came together so well, even down to the cute little chick's and red tractor.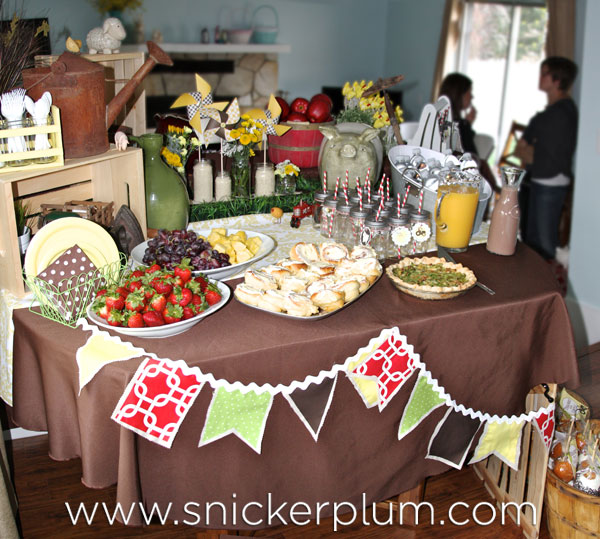 Lacey's friends and family members did the food, and it really did taste as amazing as it looks! I think it's important to remember that no matter how cute the decor is, people are always happier if they have good food to eat :)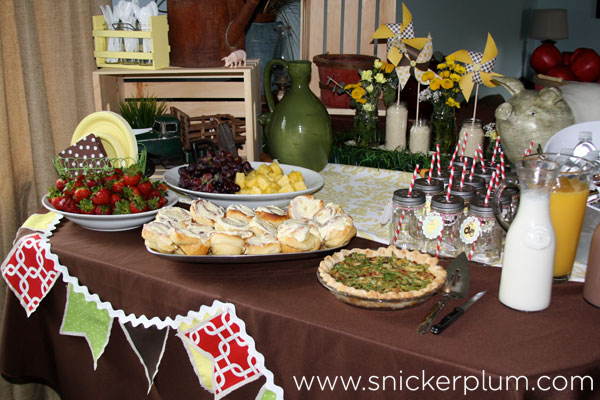 Since I didn't have to worry about doing any of the food, I was able to spend some time making carmel, chocolate dipped apples for a Thank You party favor. I had taken a class about 2 years ago, but have never actually made them on my own, so now it was time to dig up my instructions and put all the good info to use. They worked great, looked beautiful and tasted great too! I was so proud! I'll give you a tutorial soon so you can make your own, cause I took lots of picture of the process!
I also had these cute cupcake toppers, with no cupcakes because we did a brunch. So, I punched a hole in the top and tied them onto their mason jars for a little decor feature. I tied them with bakers twine, had these cute stamped mason jar lids, and some super cute striped paper straws. The cups were a HUGE hit!
I also had to take advantage of peeps being in season during this shower, so I made some cute little bows with some red fondant I bought from a friend of mine who does cakes and voila- girl & boy chicks! I did find that sometimes you can buy peeps off season here. But, there are not always available, so check early.
Here are the Chic Farm Party Package cupcake toppers and wrappers. There are 3 different styles in the wrappers and up to 8 different styles for the toppers. There are generic &/or custom ones.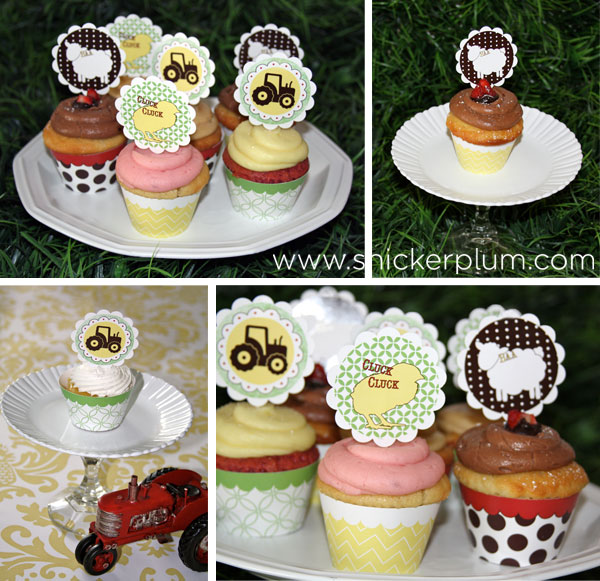 The Chic Farm Party Banner comes with up to 13 letter squares for you to customize your own saying! The sheep, tractor and chic squares are also included. (Sorry, ribbon is not included, but you can buy some from me in addition if you would like. Let me know. :)
The Chic Farm Party Package could be used for a birthday party very easily as well!
Our products can be found here:
PRINTED PRODUCTS
Chic Farm Party Complete Package
Chic Farm Party Invite
Chic Farm Party Banner
Chic Farm Party Cupcake Toppers
Chic Farm Party Cupcake Wrappers
PDF PRINTABLE PRODUCTS
Chic Farm Party Complete PDF Package
Chic Farm Party PDF Invite
Chic Farm Party PDF Banner
Chic Farm Party PDF Cupcake Toppers
Chic Farm Party PDF Cupcake Wrappers
Check back soon to see our Carmel Chocolate Dipped Apple Tutorial!