By Kristy @ Nov 21, 2012
Last year one of my good friends Staci from Just Sew Sassy decided to do a Cookie Exchange Party and asked me to design her decor for her. Staci is so creative, I knew that our two talents together would be a huge success, and man was I right!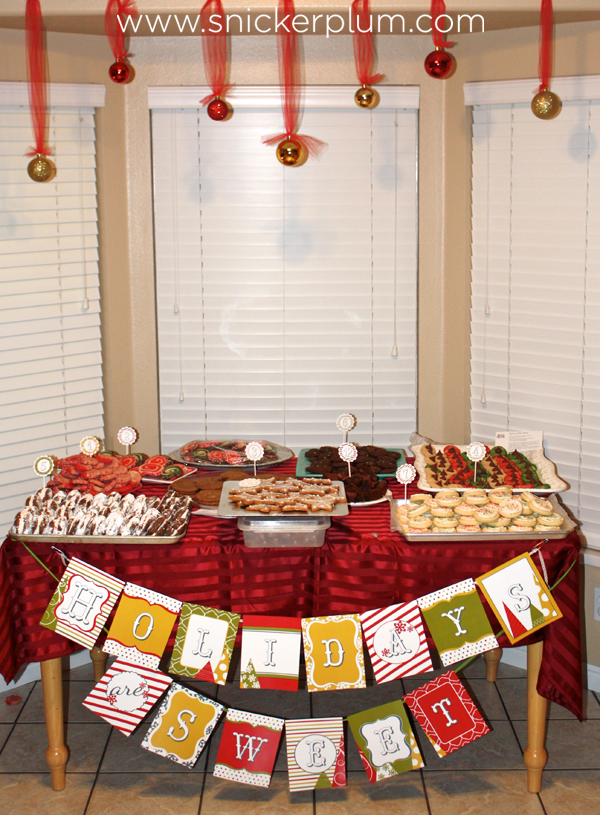 For the party banner I went with the saying "Holidays are Sweet". I chose this so that the banner could be used for other holiday Christmas parties as well. You could even hang the banner in your own home for the whole holiday season. I am going to hang mine in my kitchen, since this is where all the holiday baking takes place!
Even though I designed this banner a year ago, it is still one of my favorite designs! I love modern patterns and christmas trees with the traditional frames!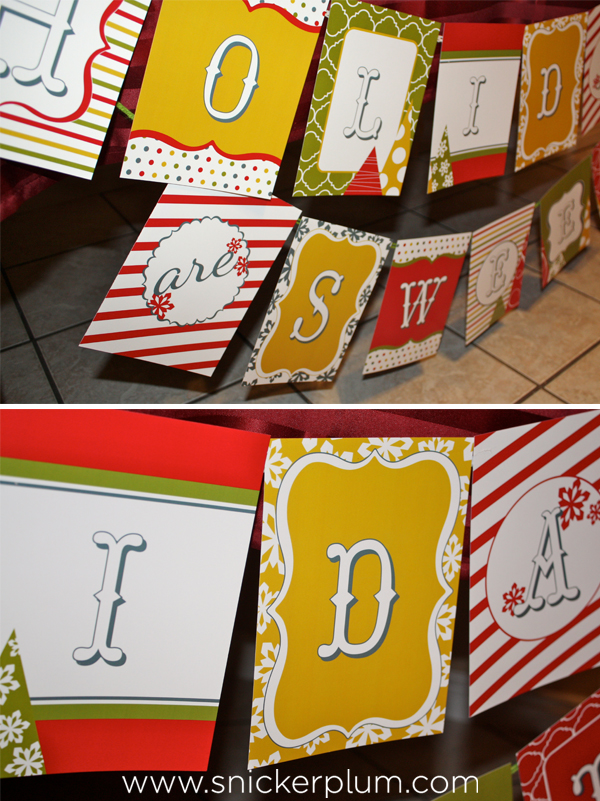 Now if you are unfamiliar with how a cookie exchange party takes place, I'll give you a quick rundown:
Each guest that you invite, you invite to come and bring a certain amount of one cookie, and copies of the recipe to share with all. You want each person to have from 6-12 cookies of each cookie. So, depending on how many people you are inviting, that will help with how many they should bring.
Once everyone is there, you take one of each cookie and taste them! (This is the best part!) You then vote on the winners, and when the party is through you divide up the cookies and go home with some of each!
This is a great way to try new, fun, tasty recipies without having to go through all the work of making 12 or so different recipes! I like taking some I bring home and sharing as neighbor gifts with my favorite neighbors!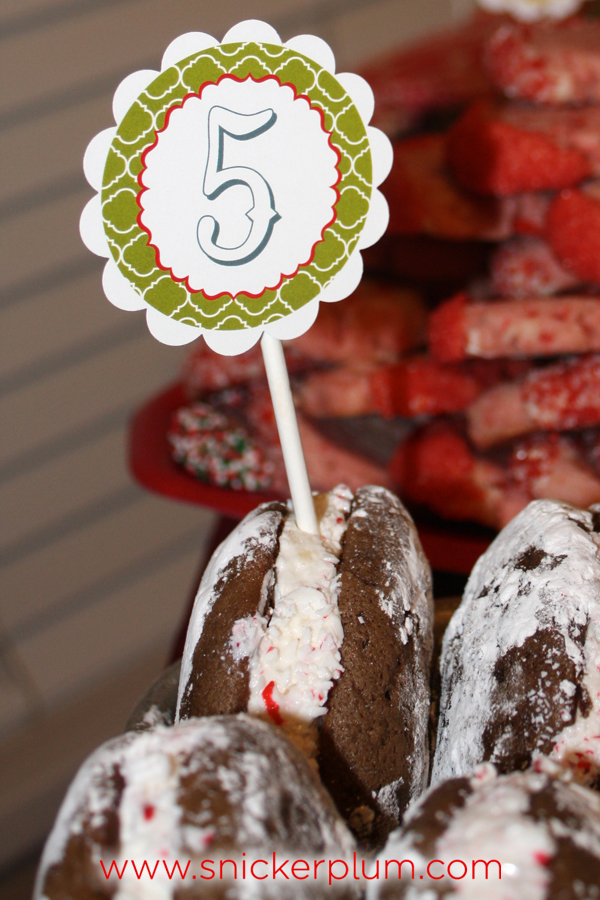 When you arrive at the party with your cookies, you will take a number topper and mark your cookies. This is a fun way to not have names on the cookies and vote based on taste and style alone without the bias of knowing whose is whose.
Mine were number 2! I found the recipe off Pinterest. Here is the link. They were not hard, but they were time consuming and they were VERY good!
The ladies definently brought their best work! They were all so tasty, and so pretty!
Staci is a great hostess and supplied us with lots of amazing food to munch on while waiting to eat our cookies! I designed 8 different food label cards that come custom with each party with your own titles!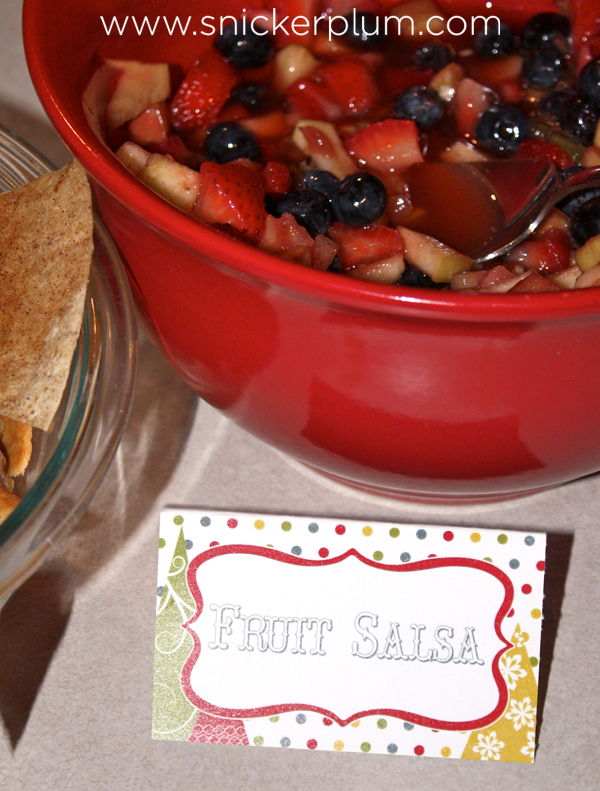 We also have water bottle wrappers. With each party I throw, and use waterbottles instead of cups, I'm finding that I like them more and more! It's so much easier, and quicker going through lines, and especially with kids; not having to worry about them knocking their cups over!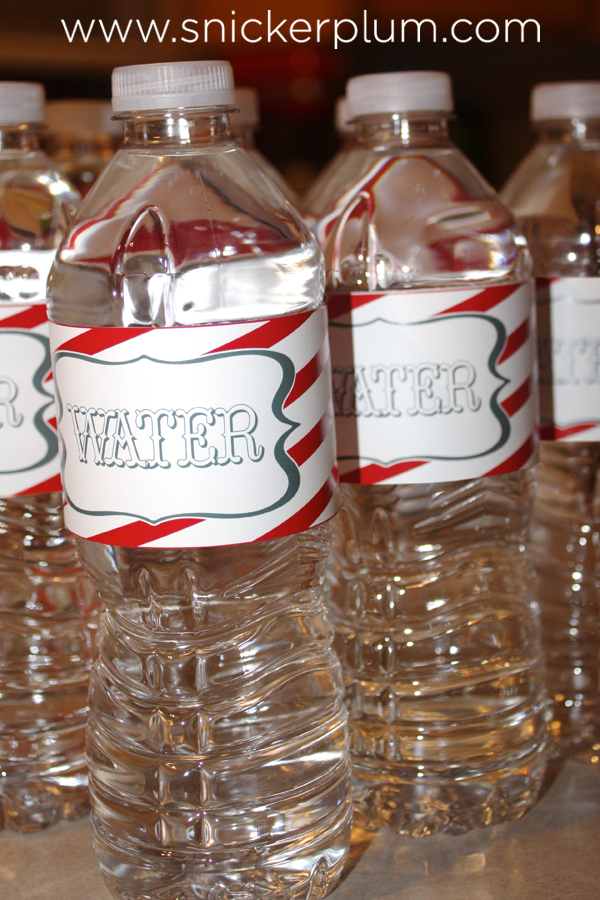 Here are our voting ballots! We used 4 different catagories: Best Tasting, Best Looking, Most Creative, and Most Unique! The ballots, come pre-cut and ready to use, saving you SO much time cutting!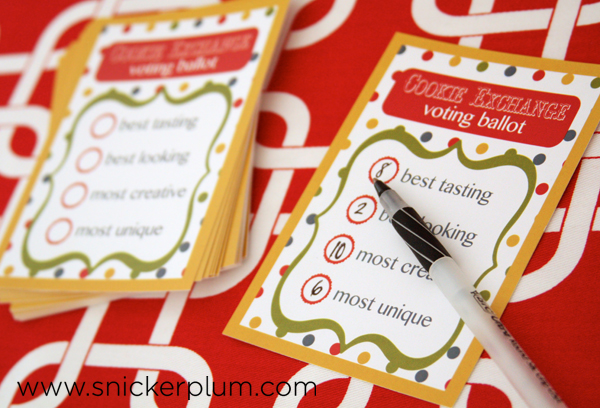 The complete package comes with 4 award certificates as well! One for each category. The only difference is, they will say 2012 of course! :)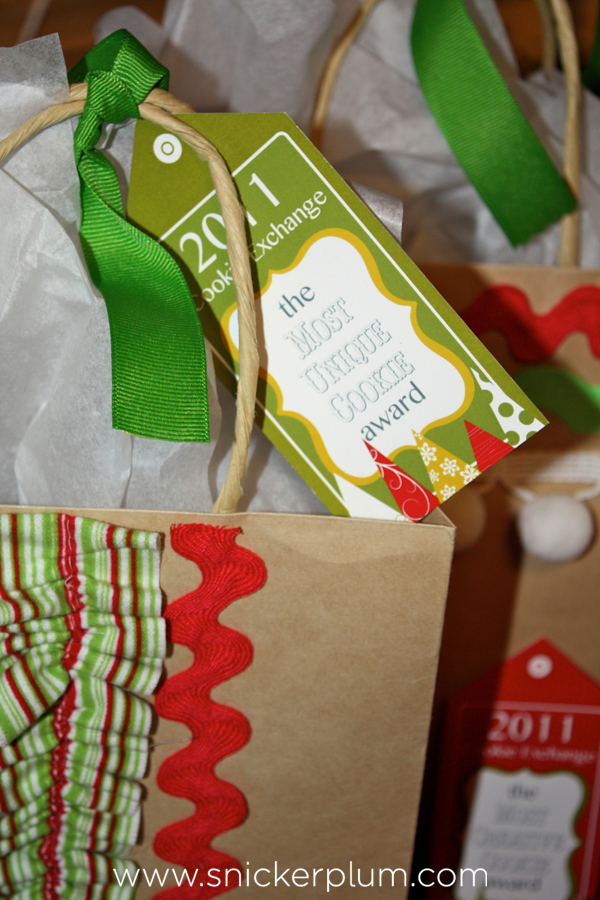 Staci hand made each of her adorable prizes, and I won one! I think I won most creative... I don't remember which one, but I do LOVE my cute apron! It's seriously the cutest apron I've ever had and I get kind of sad everytime I get it dirty! Isn't it cute!?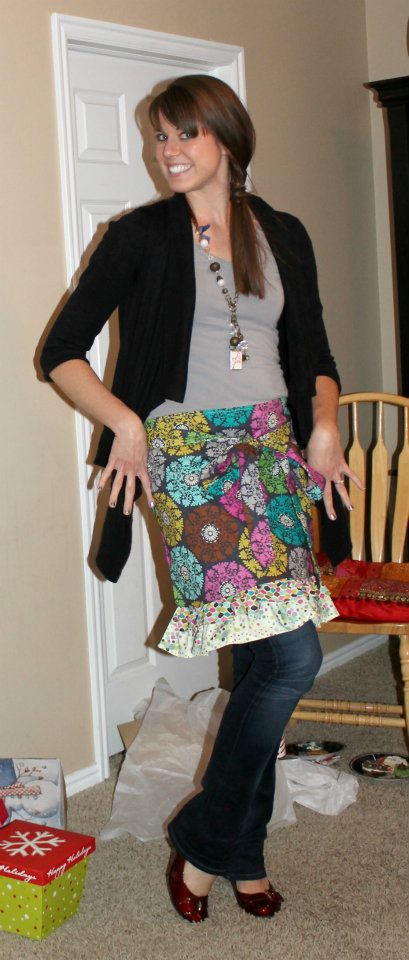 And to top it all off, Staci made cute dish towels for each of us on a charger, to Thank us for coming! She really throws amazing parties, and I'm so glad I was able to go!
I have a FREE Christmas Tag Printable that I'll put up in a couple of days, so check back!
I am also going to be doing a Cyber Monday Deal for all of my followers, so check back from more info on that as well!
Here is where you can get my Cookie Exchange Party Decor Products:
Printed & Shipped Products
Holiday Cookie Exchange Banner
Holiday Cookie Exchange Complete Package
PDF Printable DIY Products
PDF Holiday Cookie Exchange Banner- Printable DIY
PDF Holiday Cookie Exchange Complete Package- Printable DIY