By Kristy @ Nov 1, 2012
One of my good friends, Tessa, let me help her with her son's pirate party earlier this month. I've been dying to do a pirate party for a long time, so I was very excited!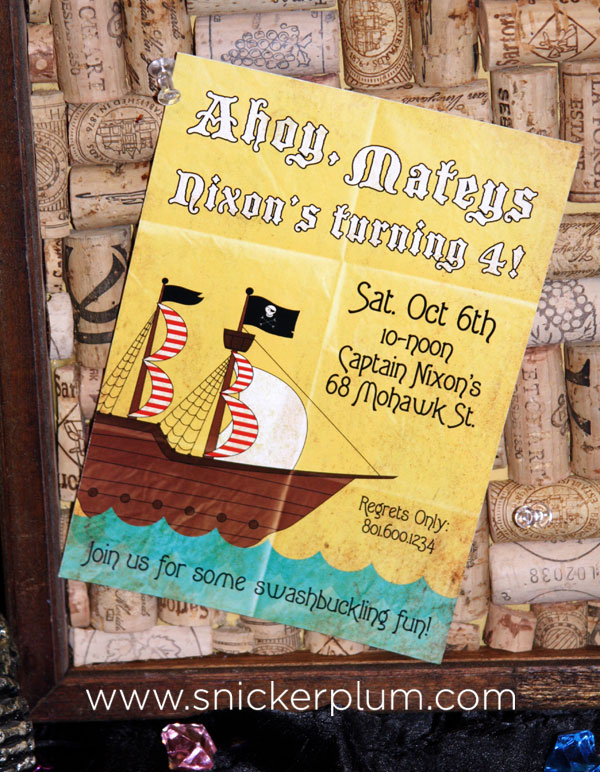 I decided to go with a distressed, aged look with all the products, and it was so much fun to learn new things on photoshop.
Arrr Matey! Let's see the decor...
For this simple decoration, we took a felt skull we found at a Dollar store, put on a pirate hat, and added two swords underneath to make a Jolly Roger on the wall.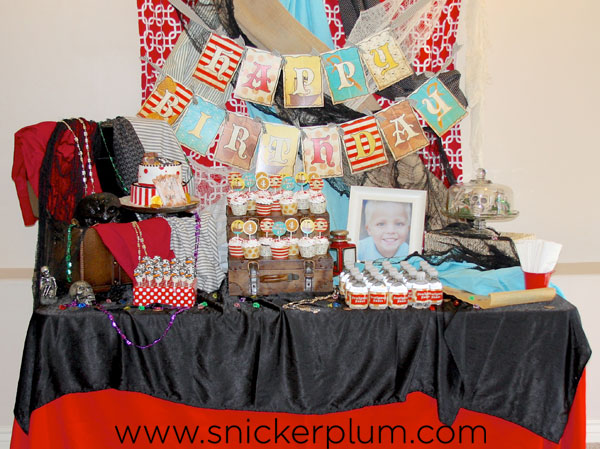 The food table was the main room focal point, but we had a few other tables decorated as well.
When they came in they were greeted with a table of dressups, so they could get all geared up to be a pirate!
And, the kids sure did get into character! They were hysterical!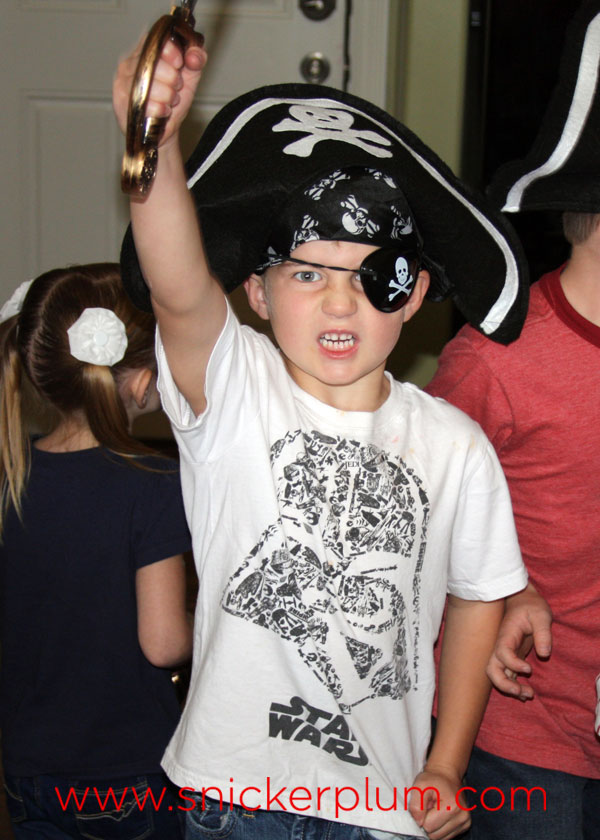 For the Pirate Happy Birthday Banner, I designed it detailed enough that it could stand on its own, without too much embelishment behind or around it. But, even with the embelishment, it's still adorable and a huge focal point!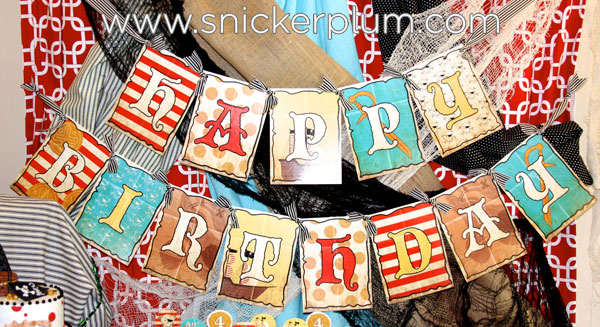 Each square is made to look aged and distressed. Each one comes with a different unique design, complete with the pirate theme.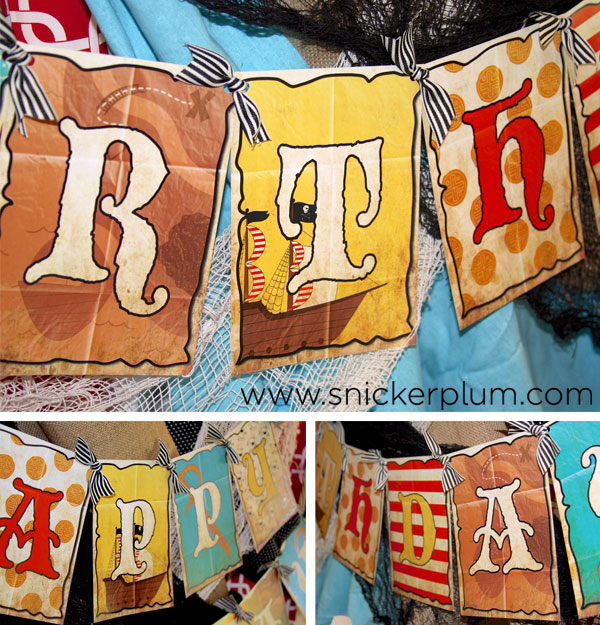 Our party didn't serve food, but if you were to, the packages comes with custom 5x7 or 8x10 pages, designed to look like a treasure map. You can put your menu on it and put it in a frame on the table to display it.
For our cupcake stand we used some leather luggage boxes, which added to the old world feel. It's always nice to try mixing your decor up a little, and trying something new.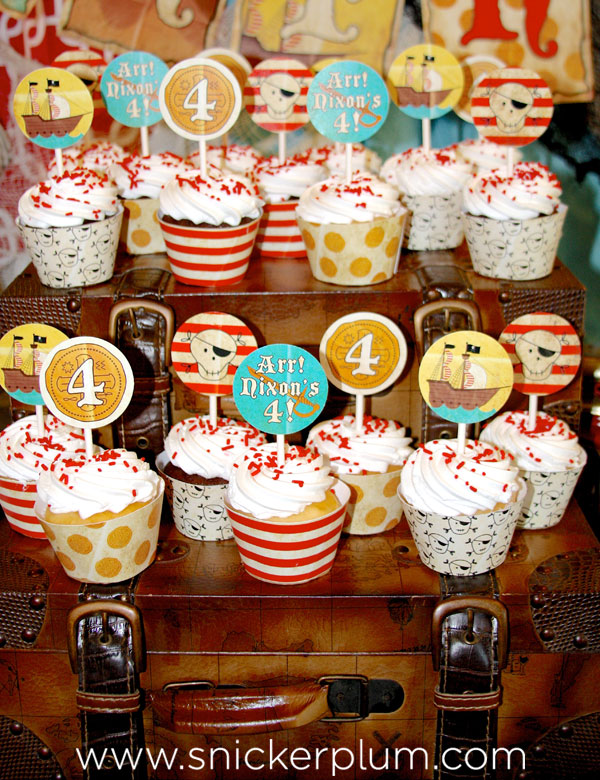 The Pirate Cupcake Toppers comes in 4 different designs, complete with personalized age and name. The Pirate Cupcake Wrappers comes in 3 different designs: Pirate Stripes, Jolly Rogers, and Gold Doubloons. The Pirate Water Bottle Wrappers come in only the one design.
We wanted our dessert table to have a pirates treasure chest on it, and after decorating it, we decided it would be the perfect place to feature Nixon's amazing Pirate Birthday Cake! The cake was made by my good friend Abby at Abby's Creations. We didn't even give her any direction with the cake. We just said pirate cake, and gave her the colors, and she came up with this PERFECT, AMAZING cake! She really is so talented! Thanks Abby!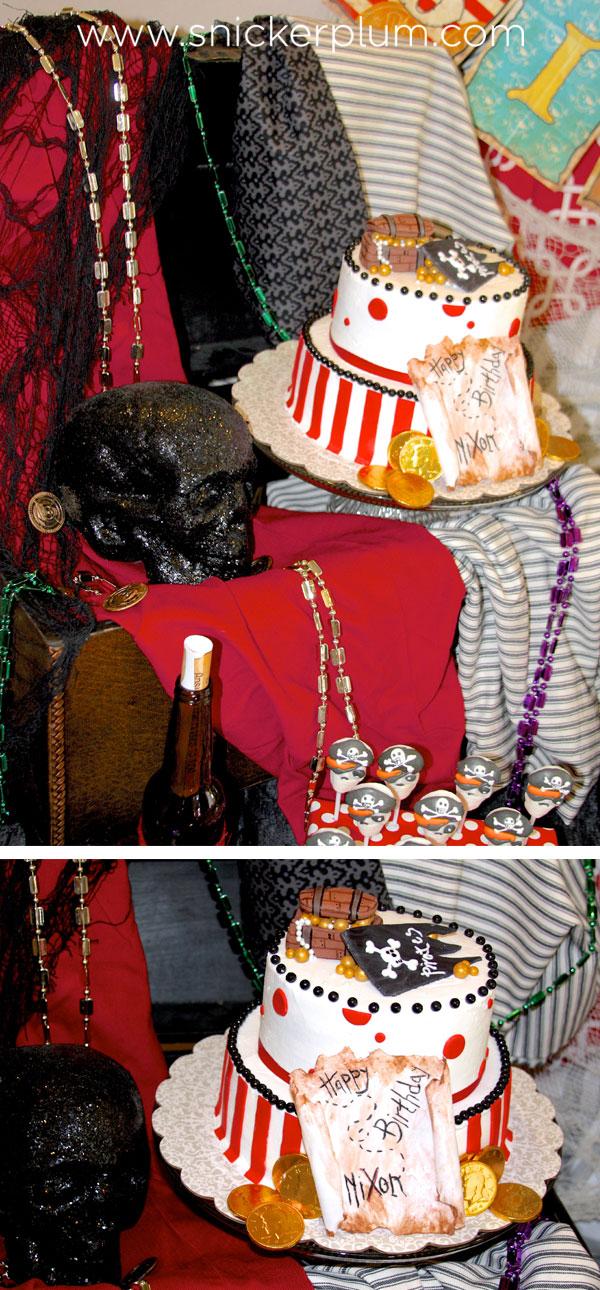 Thankfully Tessa thought of doing a door sign, because I totally spaced it! I'll do one in the future to sell in the package, but I don't have one to show you now.
Tessa got all her great pirate dressups, jewels, and the pirate ship below at Oriental Trading. She also got these cute pirate suckers that we knew we had to display.
**Tip: To display suckers, cakepops, or anything else on a stick easily, just take a piece of styrofoam and wrap it in wrapping paper. Then you can just stick the sticks in easily.**
For another piece of table decor, I put some craft moss on a cake plate, topped it with my bones (a halloween decoration I had), added some pirate booty, and added the lid!
For our Pirate Favor Thank You tag, it comes personalized with your little pirate's name! You can put the tags on anything from a sucker, to a favor bag.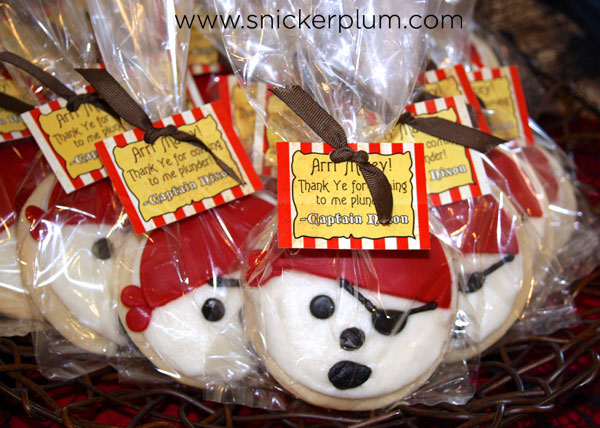 Our Pirate Birthday Party Products can be found HERE:
PRINTED PRODUCTS
PDF PRINTABLE PRODUCTS
Check my other posts for our fun Pirate Games we played!