By Kristy @ Apr 19, 2012
Today I am posting pictures from my son Colton's 2nd birthday party. Yes, this is the same little man in the spiderman party pics. So, this was a little over one year ago.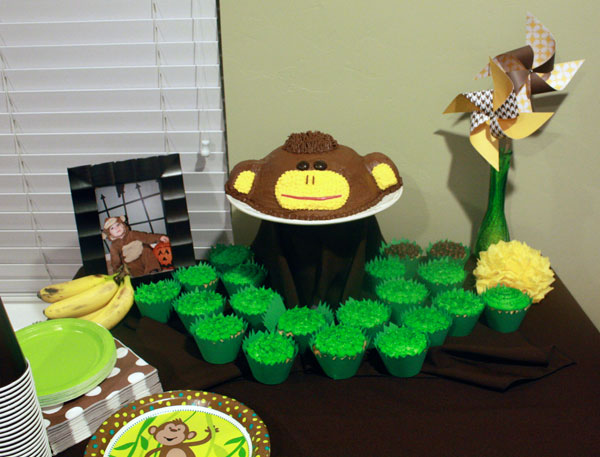 He was a monkey for Halloween 6 months before and I had such cute pictures of him in his costume that I decided to throw him a Monkey inspired birthday party. There are a lot of Mod Monkey themed party products out there, but I did not like them very much, and I did NOT like the colors of yellow and blue. I felt that his first two years had SO much blue in them, that I wanted to get away from that and go more of the green route. Besides, grass & jungle vines... they are green, not blue. :)
So, to start off with, I decided to design him a Happy Birthday banner. This was the FIRST banner I ever created! I used a cute grass design along the bottom, with a fun jungle vine along the top, and then each square has a unique pattern and design underneath.
** To add some more dimension and interest to the banner, I added some crate paper twists with different colors, textures and widths of ribbon.**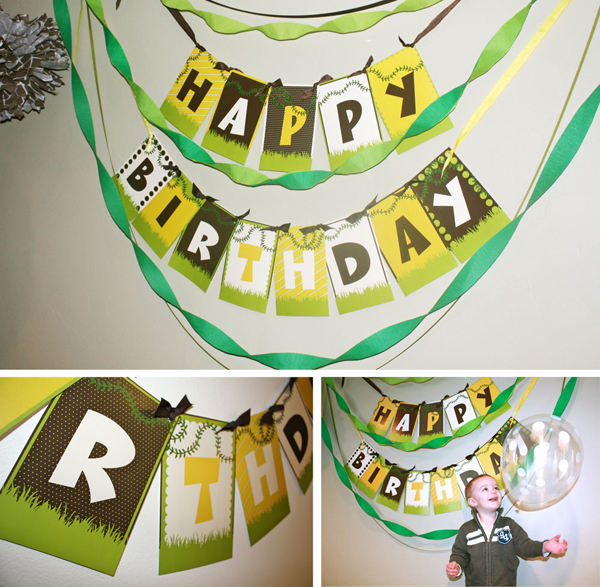 **This cute banner could easily be used for any Jungle Animal themed birthday party!**
Here are the other Snickerplum Modern Monkey Birthday Party Products. There are 5 different cupcake toppers (2 of which are custom for your own birthday girl or boy), 3 different cupcake wrappers, Thank You- folded tent cards, and a Pin the Tail on the Monkey Game. I designed the toppers and thank you's after my party, once I decided to start selling my products. I so wish I would have had them for my party!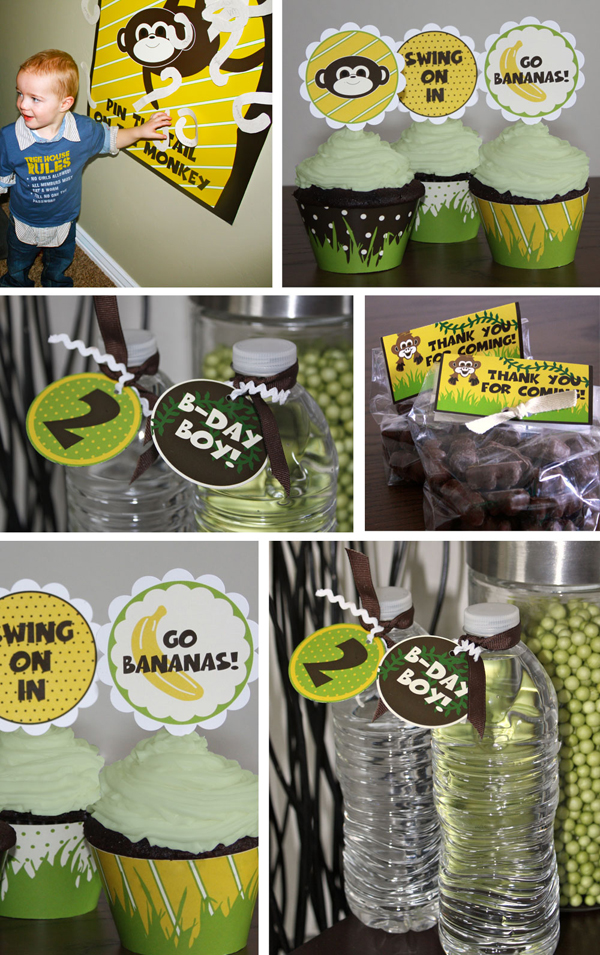 For the party decor what better to decorate with, than pictures of the birthday boy, monkeys and bananas?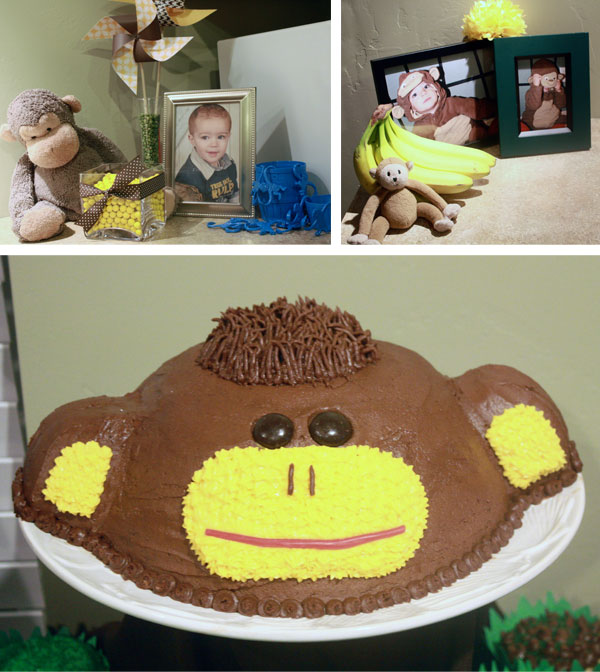 For the cake I used a design from Martha Stewart Magazine found HERE. And for the cupcakes, I used green frosting and I made some grass cupcake wrappers to go under the monkey cake. I also made some cute pinwheels. I'll show the tutorial next post on how to do the pinwheels and the grass cupcake wrappers.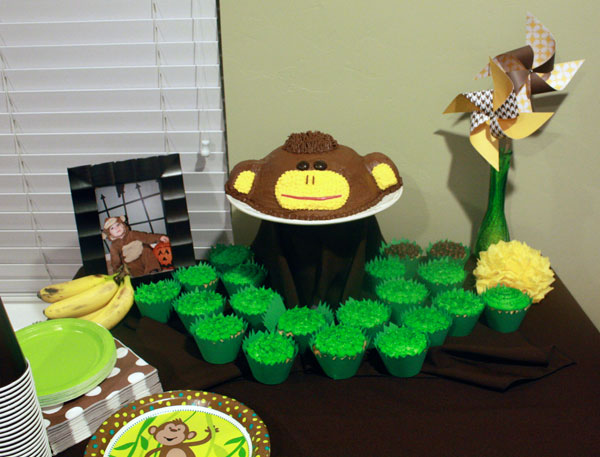 For one of the party activities we did "Pin the Tail on the Monkey". Each of the kids got to cut out and make their own monkey tail, and then we blindfolded everyone and had them "pin the tail on the monkey!" The older kids were much better at this game than the younger ones, but everyone loved it equally!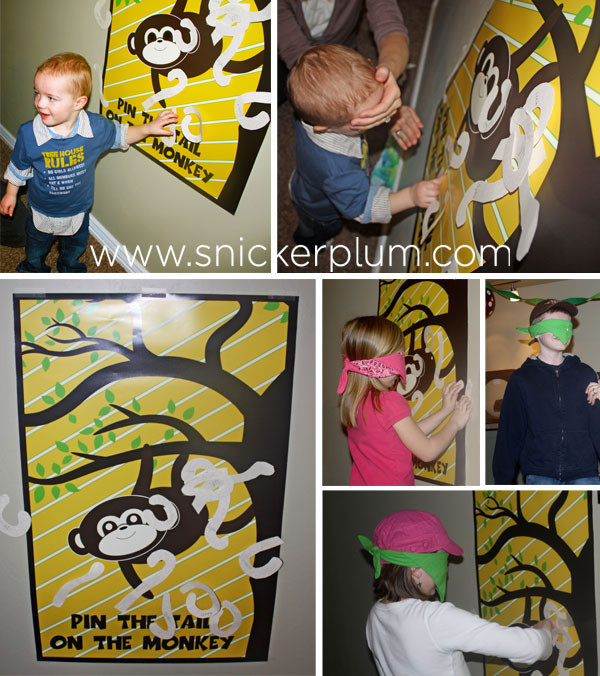 We sell the "Pin the Tail..." as a 12x18 design in the printed package and the printable. But, if getting the Printable, it can easily be blown up to any poster size you would like. Also, if wanting a larger poster in the printed package, we can do that as well for an additional cost.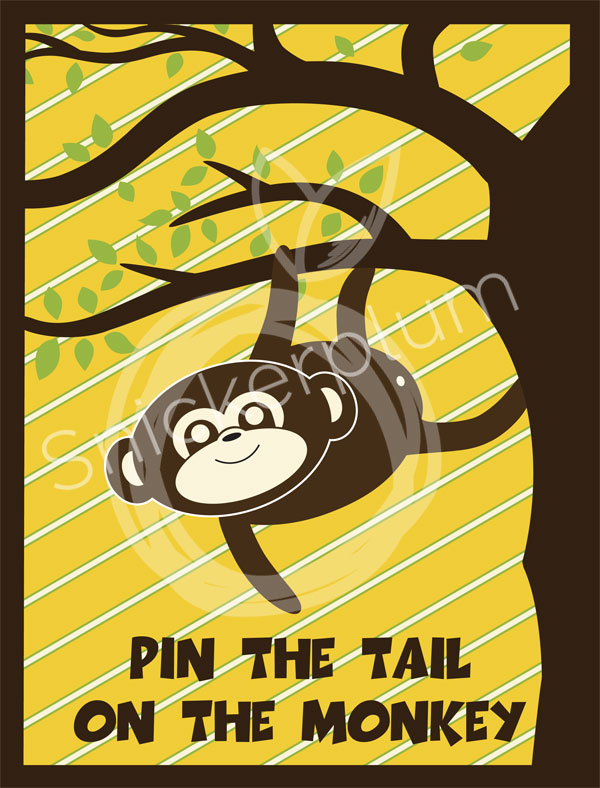 The party was a huge success with not only all the guests but the Birthday Boy as well! He was so proud of his monkey cake he almost didn't want to eat it... almost.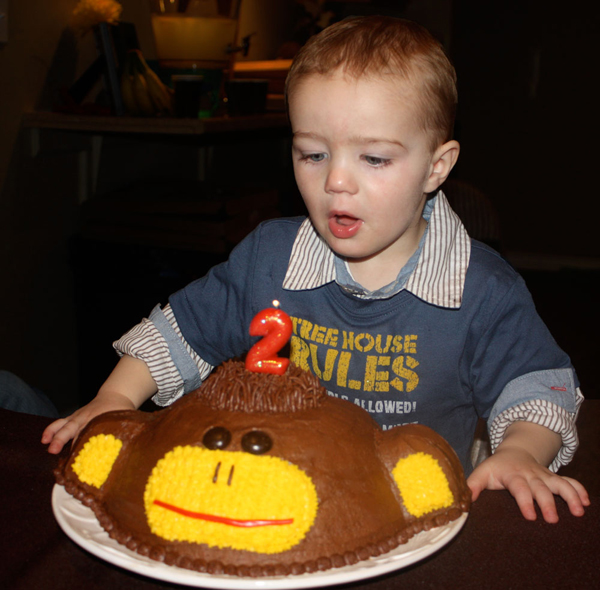 I also created a custom invite to match the banner designed. But, I'll be honest... with this being one of the first invites I've ever created, I really don't LOVE it. So, I might have to re-design the Modern Monkey Invite in the near future. I'll let you know when I do.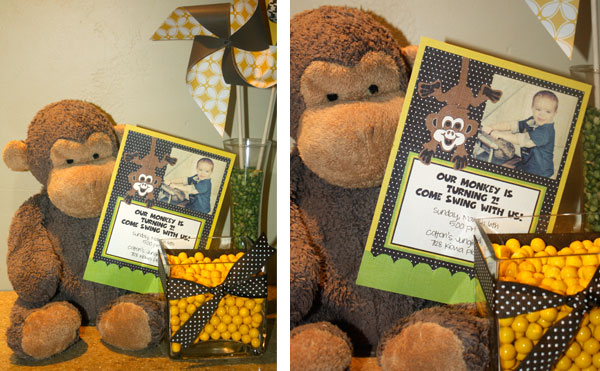 All the products can be found here:
PRINTED PRODUCTS
Modern Monkey Birthday Party Banner
Modern Monkey Birthday Party Cupcake Toppers
Modern Monkey Birthday Party Cupcake Wrappers
Modern Monkey Birthday Party Complete Package
Modern Monkey Birthday Party Invite
PDF PRINTABLE PRODUCTS
Modern Monkey Birthday Party PDF Banner
Modern Monkey Birthday Party Cupcake PDF Toppers
Modern Monkey Birthday Party Cupcake PDF Wrappers
Modern Monkey Birthday Party PDF Complete Package
Modern Monkey Birthday Party PDF Invite