By Kristy @ Apr 17, 2013
My little sister, Angie's first baby girl was turning 1 in March, so I REALLY wanted to help with her party, since I only have boys! Angie told me that she was doing a mermaid theme with the colors mint, blue and pink and asked me to design her party for her. I was THRILLED! Mermaids! How fun! And the fact that she was doing a first birthday party made my day!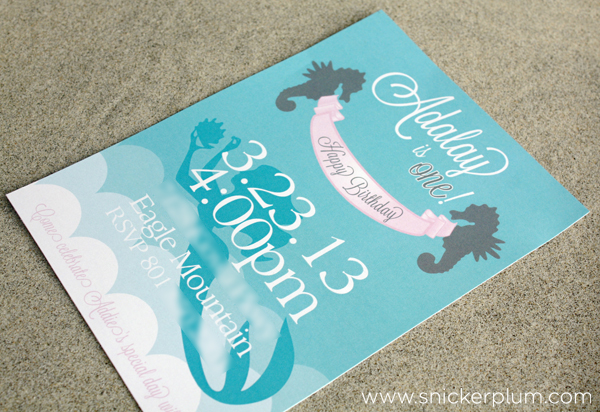 Here is the Mermaid Party Invitation I designed for the party. It was really fun creating the perfect mermaid. You don't want her to be too adult or too childish either. A good mix in-between.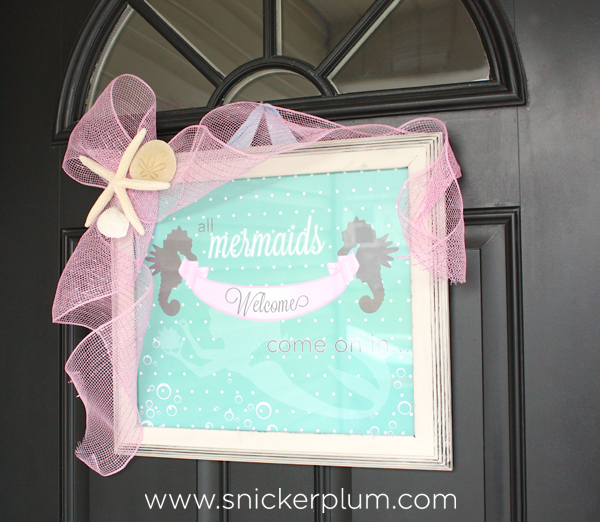 For the mermaid party welcome door sign we desided to put it in a frame and add a little girly, seashell flare to the outside. I loved how it turned out and felt it was a wonderful way to welcome the party guests matching the theme.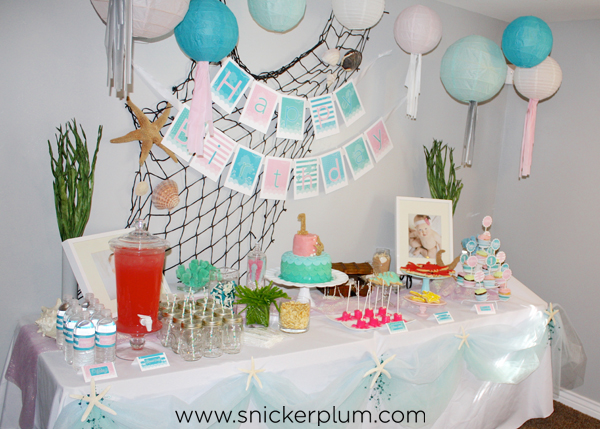 When entering the party you were greated with our beautiful mermaid inspired dessert table.
Snickerplum used Mason Jars with Gold Mason Jar Daisy Lids found HERE and Green Polka Dot Paper Straws found HERE.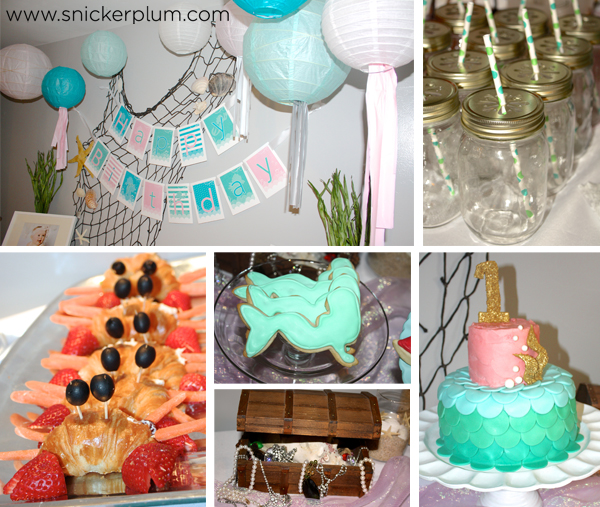 Party decor included a treasure chest full of treasure, fishing nets with seashells, sand and seashell filled jars, and seaweed looking greenery in vases at each end, along with colored coral and very large starfish!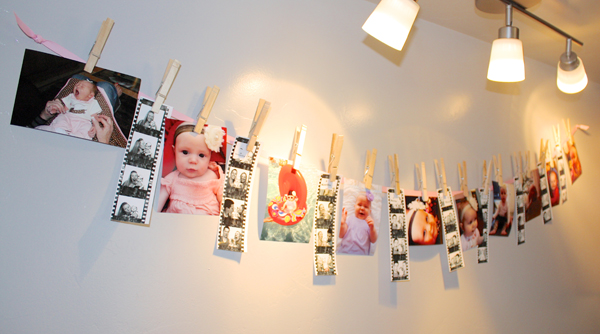 Above the food table we decorated the wall with pictures of baby Adalay's first year. We hung ribbon and attached them with clothespins. I loved that they had taken a photobooth family picture each month anniversary of her life. It was a great display piece and really neat to see them grow and change as a family.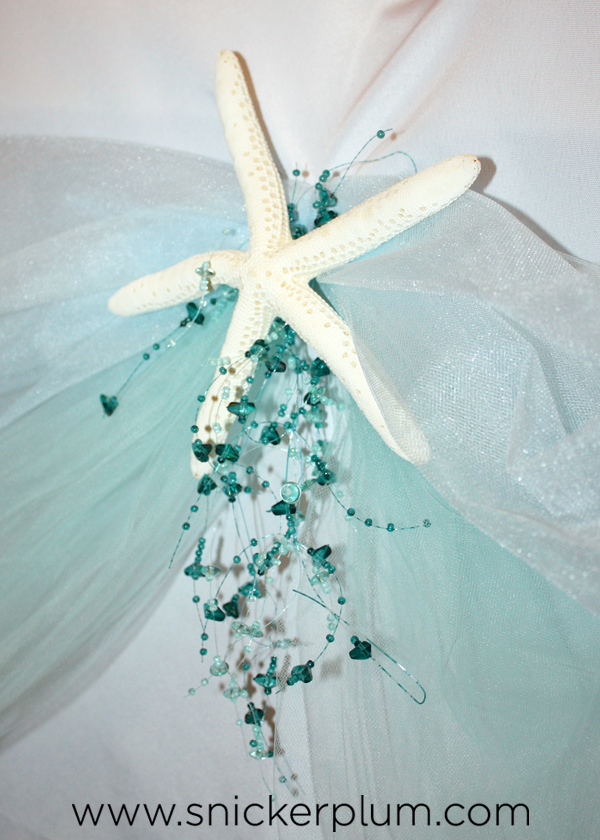 In front of each table we wanted the wave effect, so we drapped tulle in front attaching starfish at the centers.
It's always important, in my eyes, to display pictures of the birthday girl (or boy) at the party. Especially if they have just gotten their one year pictures. It's not only a great way to personalize your decor, but to remind everyone of who they are there to celebrate!
And with a baby as cute as her, who wouldn't want to look at her?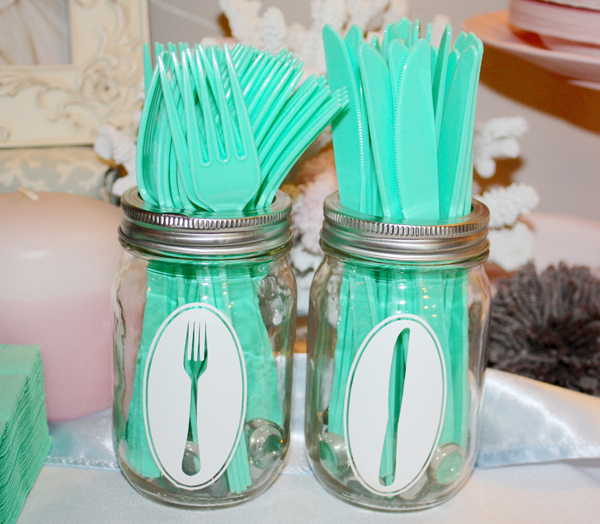 I loved the silverware decals with colored silverware in them! They stand our SO much more, and that way you can do a neutral color and re-use it for every party! The silverware decals can be found HERE. There is also a link to them under the Favorite Products column on the right.
I absolutely LOVE our Mermaid Happy Birthday Banner! Using inspiration of the sea with mermaids and seahorses, in the adorable pink, blue and mint colors. Then tied everything together with a repetative wave pattern, decorative corner swirls and a white border. Leaving this banner light, girly and all things mermaid!
We decorated above the banner with paper lanterns and added tails giving them a jelly fish sort of look.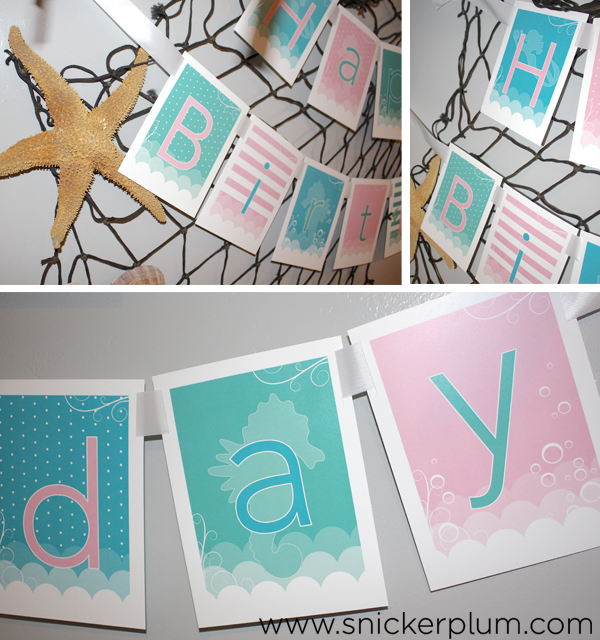 Our Girly Mermaid Birthday Party Products can be found HERE:
PRINTED PRODUCTS
PDF PRINTABLE PRODUCTS